2013
Verslag van de 2013 editie van de PENN Challenge:
PENN Challenge 2013….Chinees rood kleurt de top drie!
Nederlandse versie volgt nog!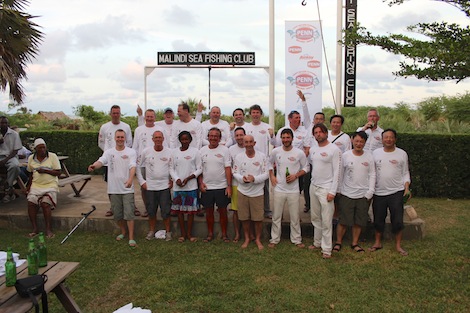 The 2013 edition of The PENN Challenge 2013 got a surprising winner. Team Fly Pelican, sole angler, Rutger van Oudenhoven, first time big game angler, won the charity tournament by catching and releasing a black marlin, a striped marlin and a dozen sailfish.

Runner up was the Chinese team Chiner Hanmei. In third place ended another Chinese team Holly Creations. The Hoogduin Brothers took 4th place honor.
Best skipper/boat was Angus Paul on Neptune, followed by Alfred on Snowgoose and Ken Rodwell on Delta.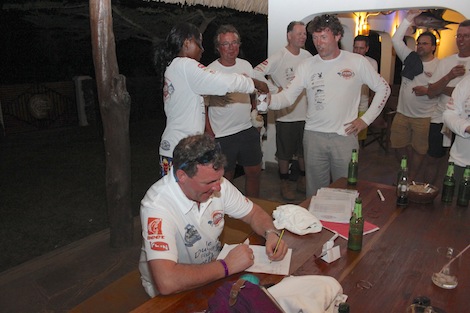 10 teams, amongst them for the first time in Kenya, two Chinese teams. 20 participants and 10 boats competed over four days.
With 7 marlin and 58 sailfish not the best edition of the PENN Challenge but for sure one of the most exiting ones due to the fact that on the last tournament day five teams still had a chance to win the tournament.


Fishing for marlin this year proved to be tough. Normally the end of March is top season for marlin in Kenya. Blues, blacks and stripeys usually are found in big numbers at the Rips and Outer Mountains. This time however the wind was blowing from the South whereas the wind is supposed to come out of the North East direction. The wind change early in March has driven the marlin further South instead of North.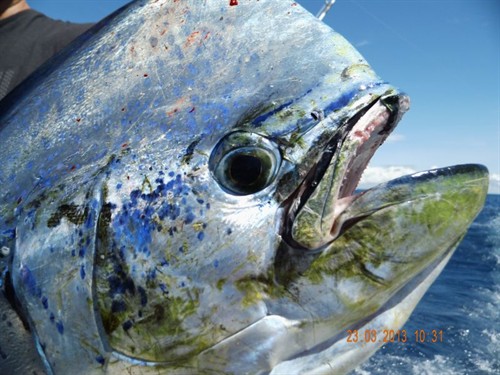 Nonetheless the fishing during the tournament dates wasn't that bad. Lots of sailfish were hanging around. Some days driving all teams/skippers completely insane. So many fish around and only a few in the mood to hunt. Some teams were able to release up to 5 sailfish a day. Skipper Angus Paul on Neptune caught 16 out of 22 the very next day after the tournament. Next to the sailfish, lots of Dolphinfish and Wahoo were around. For the competition not that significant, but lots of fun for the guys to kill time during the trolling for a billfish.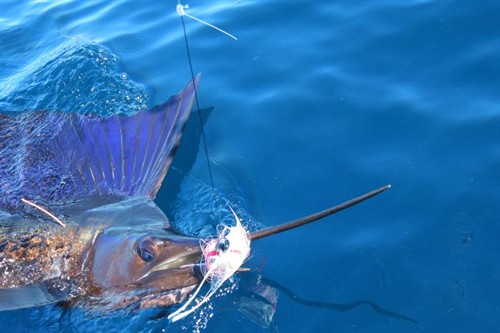 The PENN Challenge is a charity tournament. All participants, sponsors and skippers contribute to the charity goals. This year's goal was de build of a new orphanage for Lea Mwana Children Centre. The organizer of the PENN Challenge, The Fishing Dutchmen Foundation raised extra funds to complete the building On the resting day in tournament some of the participants fried fish and chips for all 40 kids. The fish was handed over by the tournament skippers.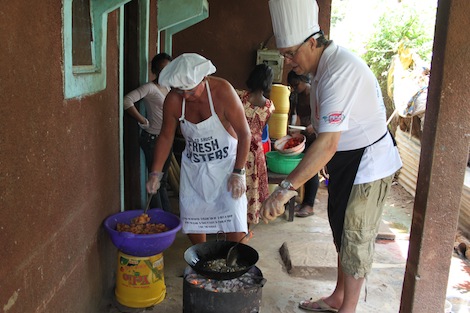 During the closing dinner and prize giving the management of Lea Mwana got 2.200 Euros handed over to make the final payment on the roof.


Final Results
1. Fly Pelican Rutger van Oudenhoven
2. Chiner Hanmei Yu Shusheng & Hu Jiquan
3. Holly Creations Wu Dong & Wu Xiaolin
4. Hoogduin Brothers Hein & Klaas Hoogduin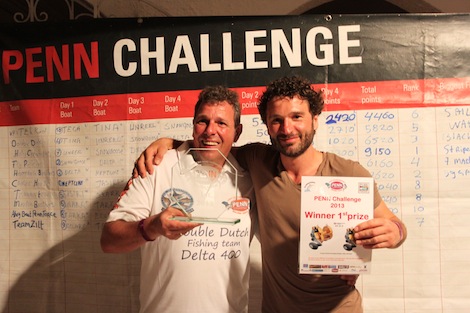 Heaviest fish in tournament
Red & White Fishing team John Gennessen 190lb Black marlin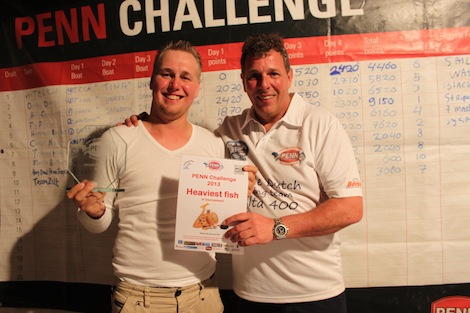 Best boat
1. Neptune Kingfisher Malindi Angus Paul
2. Snowgoose Kingifisher Malindi Alfred
3. Delta Rodwell Fishing Ken Rodwell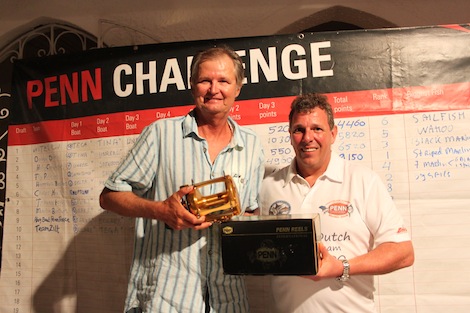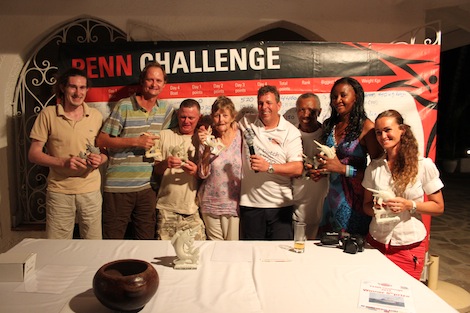 Our special thanks go to:
Adrian & Catherine Paul, Kingfisher Boats Malindi
Florian, Oceans Sports Watamu
Bruno Fontana, Sandies Hotel Coconut Village
Pam Duff, Malindi Sea Fishing Club
Steve George, Tega Watamu
Robert Valkeneer, PENN Reels/Pure Fishing
Dion Raven, Raven Fishing & Oudoor
Leen Maarleveld, Ahoy Hengelsport Rotterdam
Mark Zelle, Zelle Promotions Vorden
Vipmedia Publishing & Services
On behalf of The Fishing Dutchmen Foundation and PENN Reels ,
Toine van Ierland
Eindresultaat PENN Challenge 2012

1

Strike Team

5.850

2

Tuna Boys

4.920

3

Wild Hookers

4.190

4

Trauma Team

4.140

5

Team Take Five

4.135

6

Marlin Brothers

4.040

7

Dutch Tag Team

3.630

8

Ahoy PENN Force

3.530

9

PENN Force 1

3.370

10

Team Swift

3.250

11

Raven PENN Force

2.210

12

Gringo Loco

1.880

13

Dream Team

1.810

14

The Fishing Dutchmen

1.790

15

Team B. & B.

1.570

16

Reel Men

1.430

17

The Turtles

1.390

18

Double Dutch

1.060

19

Team Sledgehammer

720

20

The PENN Brothers

460
Best boat in competition

1

Snowgoose

6.150

2

Neptune

5.010

3

Unreel

4.520

4

White Bear

3.365

5

Snark

3.280

6

Eclare

3.220

7

Alleycat

3.060

8

Tarka

2.840

9

Ol'Jogi

2.800

10

Sea Storm

2.740

11

Simba

2.530

12

Albatros

2.470

13

Seahorse

2.230

14

Delta

2.170

15

B's Nest

1.990

16

Jasiri

1.950

17

Tega

1.870

18

Tina

1.240

19

Little Toot

1.200

20

Kipapa

740